Second Suspect Booked In Lake Tulloch Boat Thefts Case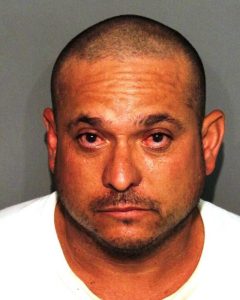 Carlos Ivan Garcia Olmos CCSO Booking Photo

View Photos
San Andreas, CA — Sheriff's officials report that another man, arrested in connection with recent boat thefts, may also be linked to a series of Copperopolis area burglaries.
As reported here, four days ago 29-year-old Justin Labass of Oakdale was picked up during an out-of-area warrant search of two locations that investigators tied to the recent theft of four boats on Lake Tulloch. During the search stolen items were located that were reportedly tied to other thefts and burglaries that occurred near the lake over the summer and he was subsequently charged with grand theft, burglary, possession of stolen property and possession of ammunition by a felon.
Today, officials say that during a second warrant search of a property on D Street in Oakdale for more potential evidence, a search was made of a vehicle on the premises. Inside it investigators found nearly three-quarters of a pound of methamphetamine, a semi-automatic handgun and stolen property relating to the Copperopolis thefts.
The vehicle owner, 39-year-old Carlos Ivan Garcia Olmos of Escalon was taken into custody and charged for possession of stolen property out of Calaveras County. Among additional charges that were referred to the Stanislaus County District Attorney's Office for prosecution: possession of a controlled substance for sale and of a firearm by an addict; transportation of a controlled substance; concealing evidence.
Calaveras County sheriff's detectives note that they have observed at least four suspects in video surveillance footage being used in the continuing investigation. Anyone with additional information that may be helpful in solving these cases is encouraged to contact the confidential Tip Line at 209 754-6030.