Caltrans Prepares Landowner Outreach To Tackle Beetle-killed Trees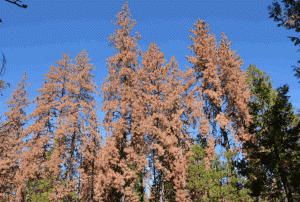 Tree Mortality In Sierra Nevada

View Photos
Sonora, CA – While various counties in the Mother Lode are already taking down bark beetle-killed trees as part of their own tree mortality plans Caltrans, preparing to tackle hazard trees under its jurisdiction, is actively seeking local landowners' cooperation.
As crews are busily marking these trees with orange paint Caltrans officials say they will shortly be seeking permission from the affected private property owners to remove them. Although the service comes at no cost to the owner because dead and dying trees near highways are potentially hazardous to the public, it requires signed permission-to-enter forms.
Caltrans officials say the agency will be conducting outreach by mailing out letters to the property owners that contain the required forms and that owners should anticipate them to arrive one to six months after the trees around them are marked. Tuolumne, Calaveras, Mariposa and Amador counties are among the most affected, along with the Tahoe Basin area, where trees have already been marked and removals are slated to begin after Labor Day.
In October 2015, Governor Brown declared a State of Emergency and established the Tree Mortality Task Force at the state level, where Caltrans has been working in tandem with PG&E, county public works, CAL Fire and the US Forest Service to coordinate tree removals. Since then Caltrans officials shares their agency has removed 107,000 hazardous trees near California highways and is expecting to remove 54,000 more by summer of 2018.
If you live near a Caltrans-maintained roadway and are interested in proactively filling out a permission-to-enter form and getting more details, click here.