Man With Machete Arrested At Tuolumne County Building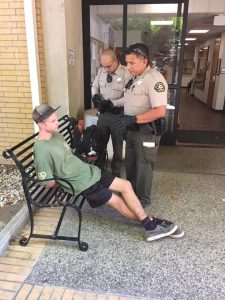 Deputies arresting Anthony Razzari at the Tuolumne County Administrative Building in Sonora

View Photos
Sonora, CA – A scare for those inside the Tuolumne County Administrative Building in Sonora last week as a man in possession of a machete came through the doors.
The Tuolumne County Sheriff's Office was tipped off to the incident by a caller reporting that a man had entered the building with a machete and went into the restroom. Deputies responded to the building, located at 2 South Green Street, to find 27-year-old Anthony Razzari inside the men's room. While questioning him, deputies discovered that he had the weapon strapped to the backpack he was wearing. A search of the bag turned up some methamphetamine as well. Razzari was booked into the county jail for bringing a machete into a county building and for drug possession.
Sheriff's officials want to use this incident as a reminder to the public that it is unlawful to possess a dangerous weapon, including a knife with a blade longer than 4 inches, in a state or local public building.