Back To School For Local Students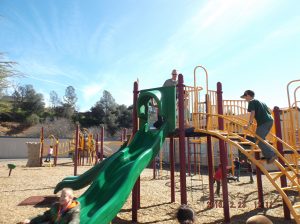 Law enforcement lunch with students at Jamestown Elementary

View Photos
Many students are heading back to school in just a few weeks. Here is a rundown of the start dates to keep in mind as school busses, students, parents and guardians will be on the roads once again.
Bret Harte High School and the Vallecito Union School District as well as the Sonora area charter school, Foothill Leadership Academy, will begin school next Wednesday, on August 16th. Calaveras Unified School District started on July 24th, they take two-week breaks in October and March.
Most of the Schools in Tuolumne County will start on August 22nd, and more will start on the 23rd. On Tuesday, August 22nd; Soulsbyville Elementary, Sonora Union High School, Curtis Creek, Jamestown, Big Oak Flat Groveland school district including Tenaya Elementary, Don Pedro and Tioga High Schools and Sonora Elementary will have their first day of school. On Wednesday, August 23rd Summerville Union High, Summerville Elementary, Connections Academy, Columbia, Belleview, Twain Harte, Mother Lode Christian and Gold Rush Charter School will begin their classes.
Fall classes begin at Columbia College August 28th. Sierra Waldorf School will start on September 6th.
New and returning students should register and often have packets of information to review and complete. Contact your school for information about their registration process.