Sonora Writers Group Gathers Local Book Authors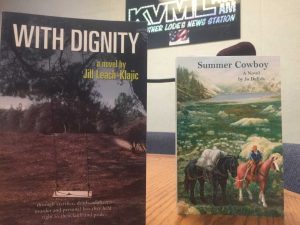 Local Books

View Photos
The Sonora Writers Group was founded in 2001 and they encourage local book authors to come find out what they are all about.
Local book authors Jo DeEds and Jill Leach-Klajic were both Wednesday's KVML "Newsmakers of the Day".
DeEds was an English/ Language Arts major at Stanford University who participated in Wallace Stegner's Creative Writing Program. Today she resides in Columbia, California and has just authored her latest novel called "Summer Cowboy". The story is about a college aged man who works as a wrangler and guide for high Sierra pack station. He faces a sudden early snowstorm.
Leach-Klajic is the former Mayor of Santa Clarita who now lives in Columbia, California. She is presently the facilitator of the Sonora Writers Guild. Her first ever novel is called "With Dignity". The story takes place in rural Arkansas in the early 1900's. It is a love story with many serious mature twists including adultery, murder and death.
The Sonora Writers Group meets in Sonora every second Saturday at 10:30 am. All writers are welcome. However, you must call for the location of the meeting place, as it is not for public knowledge.
The group encourages authors and potential authors throughout Tuolumne County to come share their writings, have discussions, listen to advise, offer suggestions and yes, even critique each other's work.
The Sonora Writers Group sponsors the "Tuolumne Writers Retreat" each fall in Columbia CA. Retreats first began in 2012.
For more information on the Sonora Writers Guild and the two local books featured in this article, call Leach-Klajic at 209-743-8097.
The "Newsmaker of the Day" is heard every weekday morning on both AM 1450 and FM 102.7 KVML at 6:45, 7:45 and 8:45 AM.