Unidentified Hiker's Remains Found At Yosemite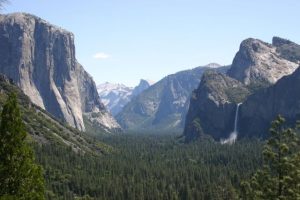 Yosemite Valley

View Photos
Yosemite National Park, CA – Park officials say the body of a woman who was reportedly hiking the Pacific Crest Trail has been found in Yosemite National Park.
Park officials are offering few other details at this time, confirming only that the location of the finding was in the northwestern portion of the park.
The Pacific Crest Trail, which stretches 2,650 miles between Mexico and Canada through the Cascade and Sierra Nevada mountains and Mojave Desert, includes 70 miles of Yosemite lands and overlaps the park's John Muir Trail. At Yosemite's southern border is the Donahue Pass portion of the Pacific Crest Trail, which, exceeding 11,000 feet in elevation, comprises the highest point of the journey in its entirety.
Just last Monday (July 23) that Kings Canyon Park officials, after Pacific Crest Trail hikers in the area sighted a body submerged in the south fork of the Kings River, recovered remains later identified as Rika Morita, a 32-year-old hiker who had been missing for about two weeks and was last reported a being sighted in the Rae Lakes area.
Still missing, presumably within Yosemite National Park is Alexander Sevier, 24, a hiker and active member of the US Navy. As reported here, he disappeared in early May. Last seen at his Housekeeping Camp site, he was known to day hike alone out of Yosemite Valley. Too, last October, Peter Jackson, a 74-year-old a White Wolf Campground day hiker was reportedly headed to Yosemite on foot when he disappeared and has reportedly not been seen or located since.