Update: Jacksonville Fire Containment Climbs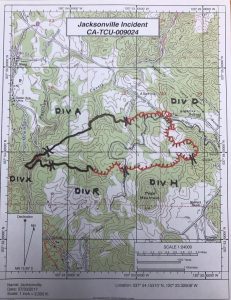 Calfire Jacksonville fire in Tuolumne map

View Photos
Update at 8 p.m.: CAL Fire reports the Jacksonville Fire containment has climbed to 73 percent with the acreage remaining at 690. Advisory evacuations remains in effect for Twist Road and Lime Kiln Road. Road closures include Algerine at Wards Ferry and Lime Kiln at Wards Ferry.
Update at 10:30 a.m.: Tuolumne County Sheriff's Officials report all advisory evacuations have been lifted. Additionally, roads remaining closed by the Jacksonville Fire will be evaluated by fire personnel at 5 p.m. to determine if they can be reopened. (Further blaze details including a fire map and road closures can be found below.)
Original post at 7:30 a.m.: Jamestown, CA — CAL Fire reports the containment has jumped overnight to 60 percent and the acreage climbed by 90 reaching 690 acres. For a bigger map of the burn area click here.
Tuolumne Sheriff's office reports all mandatory evacuations have been  lifted while advisories remain in effect for Twist and Lime Kiln roads. Roads still closed in the area include Algerine at Wards Ferry and Lime Kiln at Wards Ferry.
The fire broke out along the 15000 block of Jacksonville Road near Jumper Mine Road Saturday just before 2 p.m., as reported here. The flames quickly spread from 20 to 60 and then more than doubled in size to 130. CAL Fire pointed to  dry fuels driving the fast moving flames. By the end of the day, the blaze reached 230 acres with ground and air crews able to reach 30 percent containment. During that time residents along Algerine, Twist and Hog Mountain roads were evacuated and several roads in the fire area were closed.
A special thanks to community news partners R. Layton, Janie Cabral, Matt Biehl, Martin Miles, Tamara Hansen, Mike Mcevoy, Jennifer Teem and, Jackie Matthews, Amy Gladen for sending in photos. Pictures can be emailed to news@clarkebroadcasting.com.