Former Senator Cogdill Passes Away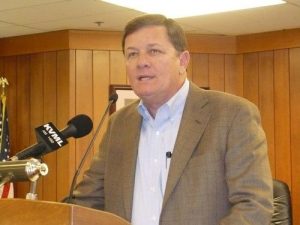 Dave Cogdill

View Photos
Sacramento, CA — Former Senator Dave Cogdill, who represented the Mother Lode for a decade, has died.
Cogdill, 66, had been battling cancer. The Republican served as District 25 Assemblyman from 2000-2006 and District 14 Senator from 2006-2010.
For a period of time he served as Senate Republican leader.
He was succeeded in both the Assembly and Senate by Tom Berryhill.
Berryhill stated on social media today, "Dave Cogdill was a great friend and leader. He served the CV (Central Valley) well. He was the real deal. I'm going to miss him dearly."
Current Republican Senate Leader Patricia Bates adds, "Senator Cogdill served the California State Legislature with honor and with courage during a time when California was going through an economic downturn. He selflessly dedicated his career in public service for the constituents of the Golden State and made a difference in the lives of those he touched whether it was in the Legislature or in the private sector. My condolences and prayers go out to his family and friends during this difficult and sad time."
After leaving office in 2010, Cogdill served a short period as Stanislaus County Assessor, and later was named the CEO of the California Building Industry Association.