Another Forest Road Reopens Just in Time For Holiday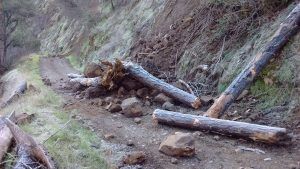 Landslide blocking Lumsden Road in the Stanislaus National Forest

View Photos
Sonora, CA – Lumsden Road in the Groveland Ranger District of the Stanislaus National Forest has reopened to travelers.
Travelers can cross the section from Ferretti Road to Southfork Campground on the Groveland Ranger District once again. However, beyond the campground the roadway remains closed. The section had been shut down by forest service officials, as reported here, during the stormy winter weather for fear of landslides or flooding, which happened. Remaining off limits is the Southfork and Lumsden Bridge campgrounds.
"Now that the road is passable, our Forest crews are preparing Southfork campground for visitors and we expect it will be open within two weeks," said Michael Jow, acting Groveland District Ranger. He adds, "Visitors can use the road to reach Lumsden campground, but please use extreme caution. Even when it's in good shape, Lumsden is a steep, narrow, one-lane road with big drop-offs in places."
Along with the roadway, Lumsden Campground and Merals Pool, a popular put in spot for kayakers and rafters on the Tuolumne River, have also reopened. As reported earlier this week, forest service officials announced road openings in the Calaveras Ranger District as well that included Spicer, Slick Rock and McKays roads.