Second Drug Bust At Same Site In Burson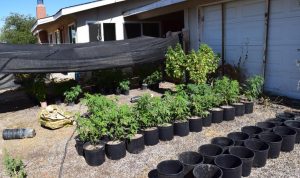 Burson pot plants

View Photos
Burson, CA – Thousands of plants, pounds of pot, steroids and a gun were seized in a raid carried out by the Calaveras County Sheriff's Marijuana Enforcement Team and the Calaveras County Sheriff's SWAT Team.
Thursday agents carried out what they called "a high risk criminal search warrant" on the 2900 block of Highway 12 in Burson. At the property they found 1,100 marijuana plants, nearly 60 pounds of processed marijuana, a "significant amount of concentrated cannabis," anabolic steroids and a firearm. Two men found at the grow, 36-year-old Efren Chavira of Lockeford and 25-year-old Luis Chavira of Burson, were arrested without incident.
Sheriff's officials note that individuals had tried to register the site with the county, but it was denied.  Additionally, this is the second raid on this parcel, another one was conducted in 2014, then agents discovered several pounds of methamphetamine and pot plants and made arrests.  In that incident and this latest one all the marijuana was destroyed
Both men face felony drug charges for cultivation of marijuana, possession of marijuana for sale, possession of controlled substance, and conspiracy. Efren Chavira also faces possession of controlled substance and ammunition by a prohibited person. His bail is $70,000 and Luis Chavira is $35,000.