Groveland Man Arrested For Threatening To Shoot Roommate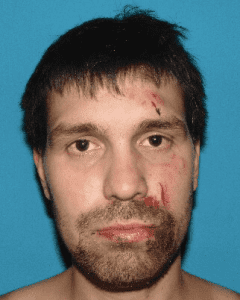 Ryan Smith

View Photos
Groveland, CA —  Tuolumne County Sheriff's Deputies responded to a Groveland home two days in a row for reports of two men arguing and possible gun fire.
Deputies were first called to a home on Jimmie Bell Street Sunday night for reports of gunshots and an argument but no arrest was made.  On Monday afternoon, a caller reported to the Tuolumne County Sheriff's office that 27-year-old Ryan Smith had threatened to shoot someone at that same residence. Deputies found Smith standing in the driveway. When they confronted him his speech was slurred and he appeared to be drunk.
Further investigation determined that Smith and his roommate had been in an argument over rent money the roommate owed to Smith. Witnesses reported that Smith had a pistol in his waistband and threatened to shoot the roommate. However, when Smith was informed that law enforcement had been called he had run into his home.
Deputies were not able to find the alleged gun. Smith was arrested for making criminal threats and for public intoxication.