Storm Damage Shuts Down Roads And Recreation In Stanislaus National Forest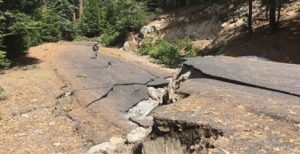 Boards Crossing Road (Forest Road 5N14)

View Photos
Sonora, CA  – Mother Nature pounded some popular roads in the Stanislaus National Forest forcing not only the closure of four popular roads but also recreational areas along them – and the shutdowns will last until "at least" the end 2018, according to Forest Officials.
Forest Service spokesperson Diana Fredlund acknowledges, "It is very, very sad news. We are unhappy to have to tell people, but Mother Nature just gave us more water than the forest could withstand. The extreme snow levels and the many winter storms just really gave us a knockout punch."
Forest Closure Order STF-16-2017-03 applies to Cottonwood Road (1N04) on the Groveland and Mi-Wok districts, Beardsley Day Use Road (4N29) and Hell's Half Acre (5N95) on the Summit District and Spicer Road (7N01) on the Calaveras District. In turn, some recreation areas along those roads have been shutdown like the Beardsley Day Use area and boat ramp along with the Stanislaus River Campground among others.
Fredlund adds, "Unfortunately we are expecting that there is even more damage in areas crews have not been able to reach. We will be repairing roads as we can, but there is such extensive damage that it is going to take quite some time." She adds that they are working with the Federal Highways Administration to help fund repairs.
The closure order is slated to run through December 31, 2018, but could be extended. A list of all the forest closures can be found by clicking here.
Click here for additional pictures and video of the damaged roads.