Butte Fire Tree Removal Crosses Finish Line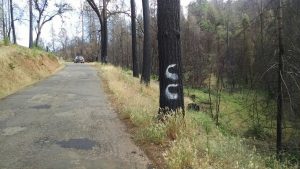 Calaveras County trees marked for removal

View Photos
Mountain Ranch, CA — 100 percent of the Butte Fire hazardous trees are on the ground in the burn scar.
Calaveras County officials report that ground crews have completed Phase I of the Burnt Hazard Tree Removal project from both public right of ways and private property. The final tally of trees chopped down is 8,451. However, Calaveras County spokesperson Sharon Torrence explains why more trees still need to come down, stating, "There have been a number of trees that the arborists thought would make it that have died. So, there are a number of trees we are asking FEMA (Federal Emergency Management Agency) and Cal OES (California Office of Emergency Services) to include in this program. The letter has gone out to them and we are just waiting for a reply. At that point, hopefully phase II will kick in and we will be able to take out those remaining trees."   Torrence indicates the additional tree count is about 1,500 scattered along the burn scar, which could take a couple of months to remove.
To date, crews have hauled away 76 percent of the debris and logs left behind by the cutting crews, with the material being chipped and then taken to the Chinese Camp Biomass Plant (Waste-to -Energy Plant).
Due to the extreme heat, the hours of the six crews doing physical work have been shortened by two and a half hours to 6:30 a.m. to 3 p.m., but truck transports will continue until 6 p.m. Monday through Saturday.