Second Weekend Of June Events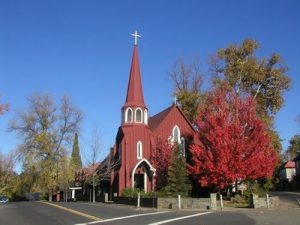 St. James Episcopal Church

View Photos
There are many events, including Second Saturday Art Night taking place in the Mother Lode this weekend. This Saturday is the debut of the the new Linoberg Art Market (or LAM), an exhibition of community art in the Linoberg Alley/Street. This month hands on demonstrations of Bonsai, Shibori, and Mask making.  The Red Church will host a small Bluegrass festival from 5:00PM to 7:00 PM and several other downtown shops will have live music as well as a band who will play in Coffill Park. Details are in the event listing here.
A rundown of local High School graduations tonight and tomorrow is here.
The Calaveras Youth Mentoring Program will host "The Party" fund raiser for dinner and dance party held on a private estate. Details are here.
The Women's Fellowship of Sonora United Methodist Church will hold an all church member Rummage Sale on Saturday. Details are here.
The Twain Harte Community Yard Sale is this Saturday in front of the Twain Harte Area Chamber of Commerce. Free admission and spaces are available to sell your treasures with tomorrow, June 9th, as the reservation deadline. Details are here.