Sonora High School Graduation Ceremony Tonight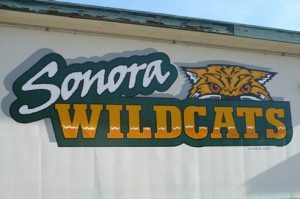 Sonora High School

View Photos
The Sonora High School Class of 2017 will receive their diplomas at a graduation ceremony Thursday evening at Dunlavy Field on the school's campus.
Ben Howell, Sonora High School Principal, was Thursday's KVML "Newsmaker of the Day."
Howell is a Sonora High School graduate ('98), who returned to teach at his Alama Mater in 2007.
"We will open the gates to Dunlavy Field at 5:30 p.m and the ceremony will begin at 7 p.m.," says Howell. "The Class of 2017 was a class of diverse, gifted and enjoyable students. They will be missed."
Calaveras High School seniors will also graduate tonight at 7:30 p.m. at a ceremony on the Frank Meyer Field. Bret Harte High School's graduation took place last week.
Tioga High will also hold their graduation ceremonies on Friday night, June 9th.
Don Pedro High School's graduation is tonight at 6 p.m.
Summerville High and Connections Visual Performing Arts Academy's class of 2017 will graduate tomorrow night on the football field.
The "Newsmaker of the Day" is heard every weekday morning at 6:45, 7:45 and 8:45 on AM 1450 and FM 102.7 KVML.