Pot, Fighting Roosters, And Illegal Pesticides Found At Calaveras County Illegal Grow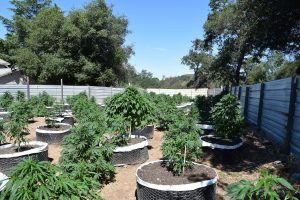 Burson pot bust

View Photos
Burson, CA – A several month investigation led to an illegal marijuana grow where not only where over 900 plants discovered, but injured cocks and banned pesticides.
Calaveras County Sheriff's Deputies raided a property on the 3800 block of Dickenson Court in Burson last Friday morning after watching the plot since May when it was determined to be an unregistered and illegal grow.
Once on the parcel deputies found an outdoor grow and seized 920 plants and an indoor operation with 11 pounds of processed marijuana. A further search also turned up evidence of cock fighting and what investigators suspected to be a bottle of Carbofuran. Sheriff's officials remark that it is an illegal and extremely dangerous pesticide. Five roosters were taken away by Calaveras County Animal Services; some with injuries consistent with cock fighting.
Deputies also found 63-year-old Jose Moran on the property. He was arrested for cultivation of more than six marijuana plants, marijuana for sales, cock fighting, possession of a game cock for fighting and a Food and Ag Code violation of possession of unregistered pesticide.