Tuolumne County Supervisors Approve Layoff Notices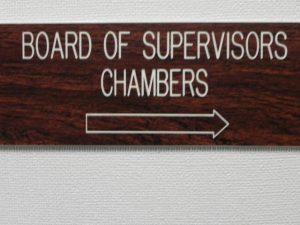 Tuolumne County Board of Supervisors Sign

View Photos
Sonora, CA — The Tuolumne Board of Supervisors decided to issue layoff notices to some full and part-time employees leading up to a budget vote in two weeks.
We reported earlier that the county is facing an estimated $3.9-million General Fund shortfall for the fiscal year that begins July 1st. Department heads were asked to create a budget that takes into account both a 5-percent and 8-percent loss of revenue, so that the board could review the potential impacts, and make decisions. Some departments are expected to be hit harder than others.
Five people voiced concerns during the public comment portion of today's discussion. Funding for the Tuolumne County Arts Alliance will be decided at a future meeting, but  Executive Director Connie O'Conner spoke about the importance of the $45,000 the county has given the organization in past years. The county's allocation for fiscal year 2017-18 still remains in question.
Stone Mill Center Developer Gary Simning lobbied for additional library funding, as it serves a growing senior population. He also made the point that his commercial center project proposed for Columbia, which is currently held up in court by a lawsuit by Citizens For Responsible Growth, would annually bring around $100,000 in sales tax revenue to the county.
Other speakers voicing concerns about cuts included District Attorney Laura Krieg, Mike Eggener on behalf of two county labor organizations and former head librarian Connie Corcoran.
The action approved this morning calls for eliminating the equivalent of 14.4 full time positions. Some of those positions are currently vacant or are filled by workers that are soon to be retired. It does not take into account relief positions that will be eliminated. You can read the budget report submitted to the Supervisors, detailing the staff reductions, by clicking here. The layoff notices, as submitted, were approved with a 4-0 vote. Supervisor John Gray was absent.