Copperopolis Man Arrested For Alleged Road Rage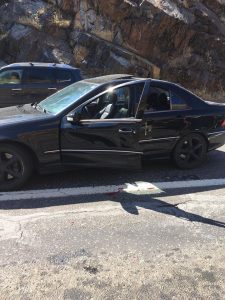 Road rage incident, June 1, 2017

View Photos
Sonora, CA — Following a two-car collision that caused one driver to be flown to a trauma center the other driver stands charged for assault with a deadly weapon.
According to Tuolumne County Sheriff's deputies, the CHP and medical personnel all responded Thursday morning around 9 to the intersection of Highway 108 and South Washington Street where a black Mercedes sedan and a silver Honda Civic had been involved in a crash. The male driver of the Mercedes sustained significant injuries. Fortunately his passenger, a toddler, located in the back seat, was unharmed. The toddler's mother, who had been summoned to the crash scene, took custody of the child.
Sheriff's officials further recount that the victim was unable to provide a full statement before being flown to a Modesto area hospital but detectives were later able to travel to the hospital and obtain a complete statement.
After investigating statements from the victim and two onscene witnesses, 48-year-old Scott Sanchez of Copperopolis was arrested and booked into the Tuolumne County Jail for assault with a deadly weapon, as it was determined that he intentionally drove his Honda Civic into the victim and the victim's car. Anyone who witnessed the incident is asked to call the Tuolumne County Sheriff's Office to provide any further information at 209 533-5815.