Graduation Ceremonies In The Mother Lode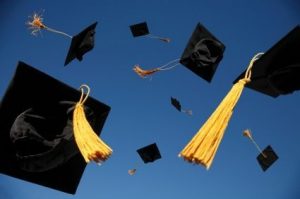 Graduation Caps

View Photos
Sonora, CA — Some local high school graduations are this week but most are happening next week.
This Friday, June 2nd at 7:30pm on the Dorroh Field, Bret Harte in Angels Camp will graduate about 170 students in the class of 2017. For the other students at the high school and at Vallecito and Mark Twain Districts including Copperopolis Elementary, June 2nd is also the last day of school before summer break.
Hickman Charter Elementary School was out on the 25th of May. Mother Lode Christian School is also out on June 2nd.
Gold Rush Charter School releases its students on June 6th and their High School Graduation is taking place on June 7th.
Wednesday June 7th both Columbia Elementary and Sonora High School have their last day of school. The Sonora School District Alternative Education Graduates of Dario Cassina, Theodore Bird and Sonora Adult schools hold their graduation ceremonies on June 7th. The Alternative Education Graduates at Summerville for South Fork, Mountain, Cold Springs and Long Barn high schools as well as the district's Independent Study Program also have their graduations on June 7th at 7pm.
Graduation for Sonora High School seniors is scheduled to get underway Thursday, June 8th at 7pm on the Dunlavy Field. Sonora Union School District's class of 2017 is about 250 students.
Many elementary schools release students for the summer on June 8th including; Bellview, Curtis Creek, Jamestown, Soulsbyville, Sierra Waldorf, Foothill Leadership Academy, Summerville and Twain Harte.
Calaveras Unified School District including the elementary schools are all out on June 8th and the High School Graduation ceremony for the 240 seniors is the same day at 7:30pm on the Frank Meyer Field. Don Pedro High seniors walk in a ceremony that will take place in the school gym on June 8th at 6 p.m.
Summerville Union High District will graduate about 165 seniors. Summerville High School's graduation is on Friday, June 9th at 8pm.
Tioga High School will also graduate its seniors on June 9th at 7pm. The Big Oak Unified School District has a total of about 25 seniors in the class of 2017.