Marijuana The Focus Of Calaveras Supervisors Meeting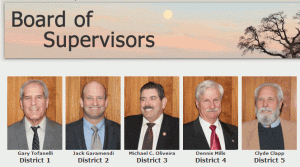 Calaveras County Board of Supervisors

View Photos
San Andreas, CA — The Calaveras County Board of Supervisors will hold a meeting tonight and the main item on the agenda is a study session on cannabis cultivation. It is designed to allow the supervisors, county department heads and residents the opportunity to discuss and hear about issues related to marijuana cultivation, and the best way to move forward. The session will be broken into five sections.
From 6:15-7:15 will be discussion about current abatement activities being overseen by the Sheriff, Building and Planning departments. From 7:15-7:45 will be comments and input from community partners. From 7:45 – 8:45 will be an overview of a proposed ban ordinance. 8:45-9:45 will focus on ban alternatives. 9:45-11:00 will be for final comments from the supervisors and members of the public.
The meeting will adjourn at 6pm so that a wide variety of community members will be able to attend. Before the study session, the Supervisors will also vote on continuing state of emergency declarations related to the Butte Fire, winter weather, and tree mortality. Tonight's meeting will be held at the Government Center at 891 Mountain Ranch Road in San Andreas.