Queens And Vaccines Drag Show At Fairgrounds Stirs Debate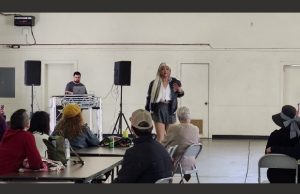 Queens and Vaccines Drag Show at Fairgrounds - courtesy image submitted

View Photos
Sonora, CA — There was a back-and-forth debate between a pair of Tuolumne County Supervisors about whether it was appropriate for the county's public health department to put on a vaccine clinic that was connected to a drag show.
The event was held this past Saturday at the Mother Lode Fairgrounds. It was organized by the LGBTQ Rural Resource Center, and both COVID and monkeypox vaccines were provided in partnership with the Tuolumne County Public Health Department.
The issue came up a couple of times at this week's supervisors' meeting. First, during public comments at the beginning of the meeting, local resident Don Nessel, voiced concerns about what was marketed as the "Queens and Vaccines" event. He said, "I was truly embarrassed for the county that there would be a vaccine clinic, and at the same time, in the fairgrounds building, whatever a drag queen event is supposed to be, going on."
He urged the county to write a letter of apology about the event and send it to local media.
At the end of the meeting, during supervisor reports, District Three board member Anaiah Kirk said he was at his son's soccer game when his phone started "blowing up" Saturday with messages of concern when details were being shared on social media. Kirk said, "I would just like to make it known to the public that I was upset as well, and I didn't appreciate being broadsided by that event."
Kirk says he had a conversation with the public health department afterward, adding, "Basically, I understand that there will be a better vetting process for when public health gets involved with events. I think we all want public health involved with the community, but it is one thing to use public health, I believe, as an open door to play 'woke politics.' That's what I believe happened, and what a lot of people in the community believe happened. It was pretty ridiculous what took place."
Kirk noted he is pleased that public health will now reassess and change how it puts the county's "stamp" on events.
District Five Supervisor Jaron Brandon took issue with Kirk's assessment, replying back, that the county needs to "serve all members of the community."
Brandon compared Supervisor Kirk's statements to a "dog whistle."  Brandon said he disagrees with Kirk's comments made to public health staff, and feels that it tells the LGBTQ community that they are "not welcome." Brandon used the comparison that public health may choose to partner with a religious organization to put on a vaccine event, and an atheist may complain, adding, "I would tell them (person-complaining) that they are wrong, and we serve absolutely everybody."
Kirk disagreed with Brandon's take and started to respond back, and it appeared a lengthier debate was going to take place between the two, so board chair Kathleen Haff quickly slammed the gavel to put an end to the conversation.
Board reports were the final part of the public open session at the meeting, and they immediately adjourned to a closed session afterward.