Woman Arrested For Injuring Officer, Intoxication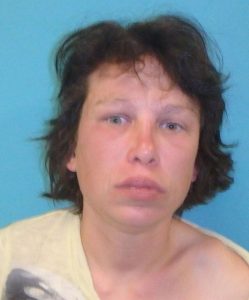 Tellena Hogland, Sonora Police Booking Photo

View Photos
Sonora, CA — A Sonora Police officer sustained wounds after a biting by an allegedly intoxicated woman while she attempted to resist arrest.
According to Acting Police Chief Turu VanderWiel, the department received a complaint around five o'clock Friday of an intoxicated female behind the O'Reilly Auto Parts store on Mono Way.
The woman, later identified as 35-year-old transient Tellena Hogland, was immediately non-compliant and displayed objective symptoms of alcohol and drug use, according to the chief. However, when officers attempted to detain her in order to evaluate her level of intoxication, she tried to pull away, forcing them to handcuff her in order to get her to level ground.
The chief shares that after the decision was made to arrest Hogland, she would not get into the patrol car but twisted backwards and clamped her teeth hard enough into the arm of one arresting officer that it required physical force on his part to break free. While Hogland was not injured, the officer sustained significant bruising and broken skin to his upper arm as a result of the attack.
Hogland was subsequently booked at the Tuolumne County Jail on charges of felony battery on a peace officer; resisting arrest; public intoxication and suspicion of being under the influence of drugs. As she was already on felony probation, additional charges are being sought against her relating to violating the terms of that probation. Her bail was set at $10,000.
Queried on Monday about the health status of the officer, whose name was not released, Chief VanderWiel shares, "As a precaution some preventative medications are administered. Because there is an unknown there, the officer will be going through a series of tests to ensure that nothing was contracted."
The chief further explains the testing is a customary measure, both to get a baseline and then over the course of several ensuing months whenever officers are exposed to blood or other bodily fluids. He adds, "When an officer gets injured, it is unfortunate — and when an arrestee gets injured, it is unfortunate as well — but it is just one of the hazards of the job."