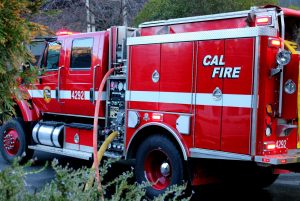 Cal fire Truck

View Photo
Update at 3:15 p.m.: CAL Fire reports that the flames have been extinguished in a Sonora house fire and crews will remain on the scene mopping up for the next hour. What ignited the blaze remains under investigation. Further details on the fire are below.
Original post at 2:40 p.m.: Sonora, CA — First responders are on the scene of a structure fire in the 20700 block of Gopher Drive in Sonora, near Racetrack Road and west of Highway 49.
CAL Fire reports that when firefighters arrived on the scene, black smoke was coming out of the home's garage. The occupants of the residence were able to escape the flames safely. Firefighters had to rescue a couple of pets from the home; none were harmed.
Crews continue to work on knocking down the blaze and checking to make sure the flames do not spread to other areas of the home or nearby vegetation. What caused the fire is under investigation.