Calaveras Big Trees Holding Town Hall On Fuels Reduction Work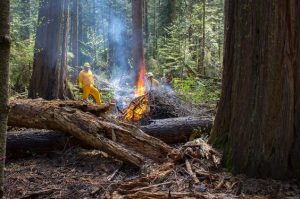 Prescribed burning at Big Trees State Park

View Photo
Arnold, CA — Hear about Calaveras Big Trees State Park's current and future fuels reduction work at a town hall tomorrow night.
After an earlier meeting was canceled, state park officials have rescheduled the "Protecting Our Forests: An Update on Current and Future Fuels Reduction Work at Calaveras Big Trees State Park" town hall for Thursday, March 16 from 6–8 p.m. in the park's educational resource room. Those who cannot make it in person can still register and attend virtually; click here.
Park staff will be providing updates on prescribed burn operations, forest management plans, and the importance of protecting giant sequoias. Attendees will get a chance to ask questions, in person or virtually. For more information or questions, contact Heather Reith, Natural Resources Program Manager, at (209) 768-5217, and Amber Sprock at (209) 795-7980 for any assistance and special meeting accommodations.
The presentation will include how fuels reduction is an important, proactive resource to protect giant sequoias and Calaveras Big Trees State Park from the catastrophic destruction of wildfires. Park officials add one key tool is prescribed burns, which along with forest thinning can reduce the fuel load, help slow or stop wildfires in treated areas, and mimic a more natural, low-intensity fire that is necessary for new sequoia growth. Both help restore and maintain an ecologically healthy forest system while providing vegetation management, wildlife habitat improvement, and enhancement of the health of the forest by removing diseased materials, restoring essential nutrients to the soil, and allowing sunlight to reach the forest floor.