One Rescued From Mobile Home Fire During Saturday's Tornado Warning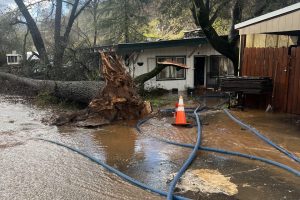 Mobile home fire in Jamestown during severe weather

View Photo
Jamestown, CA – Firefighters not only fought the flames but also the elements while battling a mobile home fire in Jamestown during Saturday's stormy weather.
The Tuolumne County Fire Department responded to a report of power lines down and a structure fire at the Woods Creek Mobile Home Park off Highway 108 in Jamestown Saturday afternoon, right in the midst of the severe weather hitting the county that included hail and a tornado warning. When firefighters arrived on the scene, there were flames shooting out of the mobile home and a large tree on the ground in front of the home. Neighbors also advised them that two people were inside the home. One person was rescued from the home. The other person was able to escape the flames on their own and was found safe outside.
With Woods Creek spilling its banks, firefighters had to deal with "excessive water encroaching the structure" that "impacted suppression operations," according to the TCFD. Crews were able to confine the flames to one room. What caused the fire remains under investigation. Assisting resources included CAL Fire Tuolumne-Calaveras Unit, the Sonora Firefighters Association, the Columbia Fire District, and the Manteca District Ambulance Tuolumne Division.