Tree, Boulder, And Slope Work Slows HWY 26 Traffic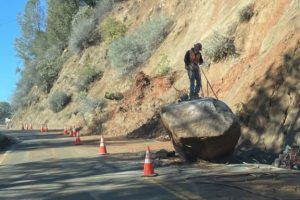 HWY 26 one-lane open after boulder found on roadway, Tuesday night - Photo taken by: Carlos Stoughton

View Photos
Sonora, CA – Caltrans crews found more than just fallen trees on Highway 26 near the Amador and Calaveras county lines last night, forcing the highway to be closed.
As crews were working to remove several trees that had come crashing down along the highway near Defender Grade Road, they discovered another obstacle, a large boulder blocking one lane, as can be viewed in the image box.
This morning, Caltrans reports that crews have been able to reopen the highway to one-way traffic control as they continue clearing the boulder and several trees and doing slope work. There is no estimated time for when the highway might fully reopen.