Tuolumne County's Tornado Very Rare For Central California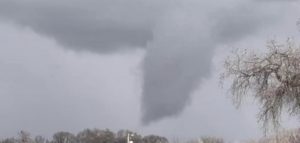 Possible funnel cloud sighted from Chinese Camp looking toward Jamestown
Tuolumne County, CA — The type of tornado that touched down in the Mother Lode over the weekend was something much more likely in the Midwest than on the West Coast
We reported earlier that a tornado hit at 2:52pm on Saturday along Old Melones Road, six miles southwest of Tuttletown. It uprooted oak and pine trees in the area and snapped two power poles in half. Buildings and structures nearby also had considerable damage. It had a length of 0.8 miles, a width of 1,000 yards, and max winds of 90 mph.
Dr. Daniel Swain with the UCLA Institute of Environment and Stability, brought it up during an online briefing with reporters this morning, ahead of the upcoming atmospheric river storm.
Dr. Swain says of the Tuolumne County incident, "These were sort of warm sector, moist and unstable air mass, type supercells, that you might see more on the high plains of Colorado and Nebraska.  This was pretty unusual for central California to see supercell thunderstorms that had this pretty spectacular organizational structure which caused some pretty significant problems, locally."
Dr. Swain continued, "Probably, most consequentially, was the localized flash flooding that occurred. Some places saw a couple of inches of rain over the course of just 30 or 60 minutes. That is a whole lot of water, especially if you are in the Sierra Foothills, which are already quite saturated. This wasn't even part of a big storm, but it was in this unstable airmass, in between storms."
Heavy flooding occurred around Sonora, Jamestown, Copperopolis, and other surrounding communities. At one point on Saturday, the Tuolumne County Office of Emergency Services requested everyone to avoid any unnecessary travel until the waters receded.