NWS: Tornado Confirmed In Tuolumne County On Saturday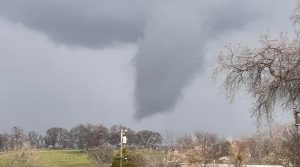 Funnel Cloud visible in Tuolumne County

View Photos
Sonora, CA — Late Saturday afternoon several supercell thunderstorms produced heavy hail throughout much of Tuolumne County, and parts of Calaveras County.
There was notable flooding around Sonora, Jamestown and Copperopolis.
The Sacramento Office of the National Weather Service now confirms, "At approximately 2:52pm (Saturday), six miles southwest of Tuttletown, a brief EF-1 tornado touched down near Old Melones Road."
It uprooted oak and pine trees in the area and snapped two power poles in half.
It had a length of 0.8 miles, a width of 1,000 yards, and max winds of 90 mph.
The National Weather Service adds that tornadoes are fairly rare in California, but there are an average of 10 per year.
To read an earlier story about the flooding, and cleanup, that followed, click here.