Tuolumne Supervisors Concerned Rural Counties Will Be Slighted With Road Fees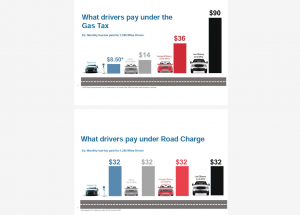 Road Tax Graph Provided By Caltrans

View Photo
Sonora, CA — California is looking to make changes to how it pays for road improvements in the coming years as more people transition to electric and lower-emission vehicles.
California pays for road repairs via gas tax collections, and that money will continue a decline as more state drivers move away from internal combustion engines. We reported earlier that the state is considering replacing the gas tax with some form of mileage fee. The details are still being hashed out by state officials.
Caltrans Road Use Charge Program Manager Lauren Preholda was at this week's Tuolumne County Board of Supervisors meeting to give a presentation on potential implementation alternatives. She noted that the program could include things like periodic odometer readings, time permits, mileage permits, or potential new apps or technologies to monitor vehicle travel.
A big concern raised by Board Chair Kathleen Haff, and echoed by the other board members, was that tourism-based-counties, like Tuolumne, could get the short end of the stick under some scenarios. The concern is that many travelers currently fill up with fuel when visiting the region, and under a new system, a visitor from the Bay Area may just have their odometer periodically checked, and the related state revenue collected from it, would benefit the county where they reside.
In addition, board chair Anaiah Kirk took issue with the state claiming that a goal is to "stabilize existing funding" from the gas tax.
He told Prehold, "I want you to know that the existing funding doesn't need to be stabilized, it needs to be completely overhauled and fixed." He noted that Tuolumne County has the worst roads in the state, stemming from a low population, and the vast amount of miles. He continued, "The state is building trains to nowhere, and we have all sorts of social programs, and there is so much bleeding, but we can't take care of basic infrastructure. We live in a first world economy with third world roads."
Other supervisors also voiced those and additional concerns, including things like privacy.
Prehoda agreed that there are unique needs for rural, and tribal, areas. She added, "It is a big change. We have relied on the gas tax for 100 years, so there is a lot of things that have to be worked through. But we do have to do something, because the gas tax, maybe even as bad as it is viewed now, it is going to get worse. We are tyring to get on top of it and think of something. I really appreciate everyone's time and thoughts. It is very helpful."
The presentation before the board was informational only, and no action was taken.