Conjunction Of Two Planets Visible In Night Skies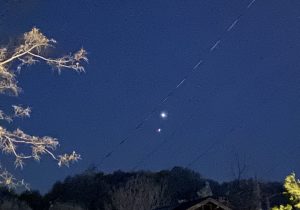 Jupiter and Venus visible Thursday from downtown Sonora

View Photo
Sonora, CA — Many in the Mother Lode have wondered why a pair of bright lights have been visible shortly after sunset in the western skies during the past two evenings.
NASA reports that it is known as a conjunction, and the clear conditions have allowed for the viewing of Jupiter and Venus, in the same area. It was visible on both Wednesday and Thursday throughout the region, and NASA reports that the two planets will grow further apart each night during March.
More information, from NASA, can be found here.
The best time for viewing is shortly after sunset (if there are clear skies).