Update: Power Outage Closes Hazel Fischer Elementary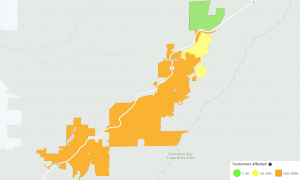 Arnold Area Power Outage

View Photo
Update at 1:05 p.m.: PG&E is reporting "equipment issues" for a major power outage in the Arnold area this morning that closed a nearby school. The company did not give further specifics on the problem. More than 3,000 customers are impacted along both sides of Highway 4 in Calaveras County. The restoration time has also been pushed back by 15 minutes, from 2:45 p.m. to 3 p.m. With no electricity, Hazel Fischer Elementary School was forced to cancel classes today.
Original post written by BJ Hansen at 8:44 a.m.: Arnold, CA — A power outage in the greater Arnold area started during the seven o'clock hour this morning and is impacting 3,005 PG&E customers.
The company reports that the cause of the outage is under investigation, and the hope is to have everyone restored by 2:45pm.
The outage has spurred Hazel Fischer Elementary School to cancel classes today. The widespread outage is impacting the Arnold area and continuing east into Dorrington.