Amador County Man Found With Guns In Vehicle Arrested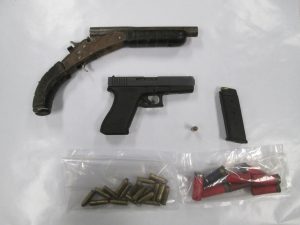 Guns confiscated during arrest

View Photos
Amador County, CA – Shotgun shells scattered on the floor of a suspicious vehicle, leading to the discovery of a couple of firearms and the subsequent arrest of an Amador County man.
A sheriff's deputy was patrolling in the area of Highway 26 and Joyce Road in Pioneer recently when he noticed a suspicious vehicle. When contacting the occupants, the deputy noticed numerous shotgun shells in the cab of the vehicle.
A record check of the driver, 35-year-old David Lee Salke Jr., revealed he was a convicted felon and was prohibited from possessing the ammunition. That allowed for a search of the vehicle, which turned up a loaded Glock 20 handgun and a short-barreled shotgun. Salke was arrested on numerous felony charges related to the possession of firearms and ammunition by a prohibited person.