A Surprise For A Sonora Home Owner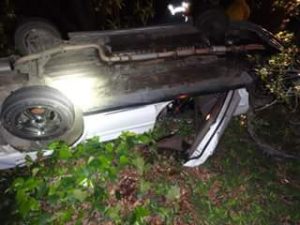 Hit and run rollover crash in Sonora

View Photos
Sonora, CA – Sonora Police report a car crashed and overturned in the resident's backyard – then the driver took off on foot.
The wreck happened in the 600 block of East Bald Mountain Road on Sunday just before 11:30 p.m.  When officers arrived on scene they found a white 1994 Honda Accord over the embankment and on its roof but no driver behind the wheel.  Investigators also discovered that the vehicle had struck a power pole, then a tree and went through a fence before it overturned in a home owner's back yard.
The driver was able to get out of the car and fled the scene. The individual has not been identified. Anyone with information regarding the crash or a possible suspect is asked to call the SPD at 532-8141.