Sonora Leaders Were Concerned About Rumors Of Fence Around Courthouse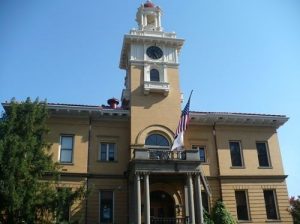 Tuolumne County Courthouse

View Photo
Sonora, CA — With the historic downtown Sonora courthouse no longer currently being used, there have been rumblings that Tuolumne County was planning to put a chain link fence around it to prevent future break-ins.
It was a topic that was brought up at Monday evening's Sonora City Council meeting during a monthly presentation by District One Tuolumne County Supervisor, David Goldemberg, who represents the Sonora area on the board.
Sonora Vice Mayor, Ann Segerstrom, asked him point blank, "I understand that you are going to enclose the courthouse in chain link fence. It would be kind of a black eye for the middle of the community. I'm just wondering if there are any other options you had looked at?"
To which Goldemberg responded, "I have received many correspondences regarding that area, and I personally agree. We don't need to put a chain link fence all the way around that building."
He continued, "The one entrance, across from the AN Francisco building, is where we were having some problems with some homeless people getting up in there, so we may close that off. We may see about closing another entrance or two off. We are not going to put a chain link fence up around that building."
To which Segerstrom responded, "Well, that is a relief to hear, thank you."
"Brilliant news," replied Mayor Mark Plummer.
City leaders have been concerned about the aesthetics of putting a chain link fence around a local iconic building, right in the heart of downtown. It sits in the city but is owned by the county.
The county has been looking at potential future opportunities for the building now that the new courthouse has opened on Justice Center Drive.
Also at Monday's meeting, the council voted to officially end the State of Emergency Declaration related to the 2021 Washington Fire, and approved a roughly $80,000 contract with the company Citygate Associates to do an organizational and financial review. It was expanded from the initial $73,000 staff recommendation so that it can also review the issue of homelessness and tribal partnerships. The end goal is to put the city on a new, better path, following the passage of the Measure Y sales tax measure.