Storm Impacts On Tuolumne County Roads To Be Discussed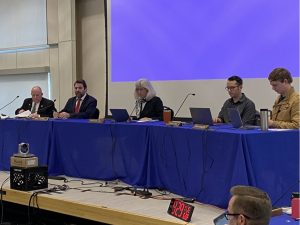 Tuolumne County Supervisors Meeting

View Photo
Tuolumne, CA — Tuolumne County officials say that a series of storms starting in late December and continuing through mid-January prompted the need for $1.7 million in emergency repair work on county roads.
During the local State of Emergency, the CAO directed that any needed repairs be done without going through the traditional process of collecting bids and reviewing those proposals for the work. Quicker, emergency actions, are allowed under a declared disaster.  Some of the hardest hit areas were Marshes Flat Road, Wards Ferry, Red Hills Road, Buchanan Road, Tuolumne Road North, Parrotts Ferry Road, and Sawmill Flat Road.
The Board of Supervisors will hear an update at Tuesday's meeting and decide whether ongoing emergency actions are still needed (4/5 vote would be required).
County staff is encouraging the board to continue to allow the emergency actions, noting, "Although the storms have ended, the road damage is still under review, and there are road right-of-way slopes still actively sliding."
A memo to the board, adds, "Currently, we have at least two roads requiring geotechnical evaluations that will likely necessitate extensive repairs.  We are continuing to assess damages, and estimates could increase after inspections. Emergency work is ongoing at Marshes Flat – Kelly Grade and Wards Ferry."
Also on Tuesday, there will be a discussion about the Board Chair's committee assignments for 2023, and the Tuolumne County Governing Bodies Handbook.
The meeting will start at 9am at the Tuolumne Community Resilience Center in Tuolume. Because of the location, the county is not providing a livestream stream video of the meeting.