FEMA And CAL OES Assess Damage In Tuolumne County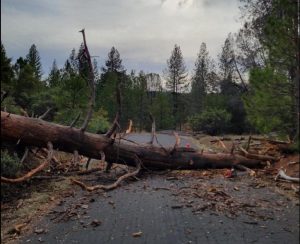 Storm Cleanup in Tuolumne County

View Photo
Sonora, CA — Members of the California Office of Emergency Services and FEMA were in Tuolumne County this week to review and document damages from the recent storm systems.
Tuolumne County OES Coordinator Dore Bietz notes that a main purpose of the Wednesday visit was to determine if Tuolumne County meets the threshold to be included in the federal disaster declaration.
Bietz says, "We are pretty confident that we hit the threshold. We are currently at approximately $18.2 million in damages to public entities throughout Tuolumne County."
Agencies that have reported impacts to infrastructure include the county, TUD, Twain Harte Community Services District, Groveland Community Services District, and several others.
One of the hardest hit areas was Lake Don Pedro, where heavy amounts of debris and wood rushed into the lake, and needs to be removed. The work could cost around $4-million because specialized equipment has to be brought into the area. In addition, Phoenix Lake has a lot of debris that needs to be removed. Those projects are in addition to roads and other infrastructure requiring major repairs.
A decision on whether Tuolumne County is added to the federal disaster declaration will likely come in the next week. The move would provide federal funding to help cover expenses.