Sonora's Covid Testing Site Closing Soon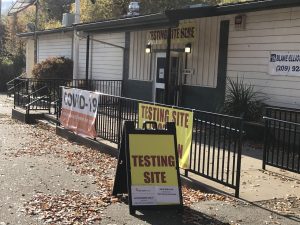 COVID-19 testing site at Mother Lode Fairgrounds in Tuolumne County

View Photo
Sonora, CA — As California will end its COVID state of emergency later this month, the Mother Lode's LHI testing site at the fairgrounds in Sonora will be closing.
Tuolumne County Public Health Director Michelle Jachetta has been notified that the last day of operations will be February 23.
In anticipation, the Public Health Department has started receiving allocations of free at-home test kits that are available at the main Public Health Department Office.
Jachetta adds, "We will be working with our team to develop a distribution plan, and have those test kits available at other areas that are easy to get to, like libraries, and community-based organizations.
Testing kits can also still be acquired, for free, from the federal government by clicking here.
Under the federal CDC's three-tier system, Tuolumne County is currently in the "moderate," middle level, when it comes to current COVID-19 community transmission.