Update: Inmate Escapes Calaveras County Jail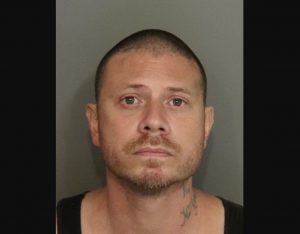 Larry Albert McDonald

View Photo
Update at 11am: Escaped Calaveras County jail inmate, Larry Albert McDonald, remains at-large.
The sheriff's office is reaching out to the public for help.
Lt. Greg Stark says, "If you live in the San Andreas area, please take a moment to check your surveillance systems (including home or business security cameras, game cameras, etc.) for any signs of the escapee."
Adding, "Law enforcement believes this individual might still be in the San Andreas area, and any information that can contribute to the investigation would be greatly appreciated. If you see this individual, please call 9-1-1 immediately and do not try to apprehend him! If you see anything or anyone suspicious, or have any information related to the escapee, please contact the Calaveras County Sheriff's Office immediately at 209-754-6500 or the Sheriff's Office Anonymous Tip Line at 209-754-6030."
Original story posted at 6:15am: San Andreas, CA — A man in custody escaped the Calaveras County Jail Thursday evening.
41-year-old Larry Albert McDonald was doing some supervised duties associated with his assignment as an inmate worker. While taking out the trash, he sprinted toward a razor wire fence, climbed over, and ran away into a field. The jail was put on lockdown and other law enforcement agencies were called in to help with the search. They included jail staff, patrol deputies, Angels Camp PD, CHP, and a Stanislaus County helicopter.
McDonald remains missing this morning. The Sheriff's Office is contacting known associates and previous locations he would hang out. He had been arrested on drug-related charges, for disobeying a court order, and being in possession of a dangerous weapon.
The sheriff's office warns, "Anyone caught aiding and abetting his escape or concealing his location may be charged with accessory to escape."
McDonald is described as being 5-10, 160lbs, with brown hair, hazel eyes, and a tattoo on his neck. He was last wearing a blue top, blue pants, and black shoes. The attached picture is his most recent booking photo however, he is recently clean-shaven.
The sheriff's office says to call 911 if you see McDonald or if you learn his location.