Update: Winter Storm Watch This Weekend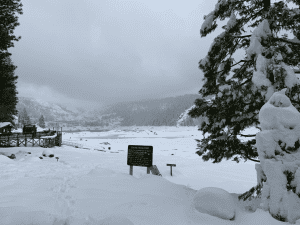 Pinecrest

View Photo
The National Weather Service has issued a Winter Storm Watch for the western slope of the northern Sierra Nevada from Saturday afternoon until Sunday evening. Additionally, a Winter Storm Watch has also been issued for Yosemite National Park (outside of the Yosemite Valley floor) from Saturday evening until Sunday evening.
The snow levels will initially start out between 5,500 to 6,500 feet on Saturday, before dropping down to 3,500 to 4,500 feet on Sunday.
The total heavy snow accumulations will range from half-a-foot to three feet above the 4,000 foot elevation. The higher you go, the more the snow.
Winds may gust as high as fifty-five mph. Gusty winds could cause tree damage and bring down tree branches.
Travel could be very difficult to impossible at times.
Monitor the latest forecasts for updates on this situation.
Currently there are no restrictions up to the winter closure gates on Highways 108, 120 and 4. There are also no restrictions on Highway 88, Carson Pass.