Free Dental Care Brings Smiles To Some Mother Lode Parents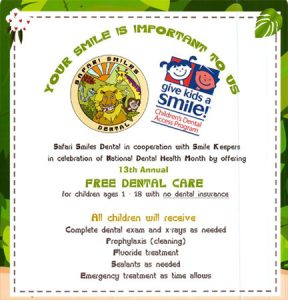 Free dental care day in Sonora

View Photo
Sonora, CA – In honor of February being National Children's Dental Health Month, kids can get free checkups and other care in the Mother Lode, bringing a smile to their parents' faces.
Safari Smiles Dental and Smile Keepers have been providing free dental care for children ages 1–18 with no dental insurance in Tuolumne County for the past 13 years and counting.
"Oral health is a very important component of our overall health, and developing good dental habits helps children maintain healthy and strong teeth," noted county health officials.
Details on the care given at the event can be viewed on the flyer in the image box. The event takes place this Saturday, February 4th, from 9 a.m. to 2 p.m., with sign-up starting at 8:30 a.m. at Safari Smiles Dental, 800 Morning Star Drive, across from the Sonora DMV.
A mobile dental van is coming to Calaveras County this month, as Delta Dental has partnered with Medi-Cal Dental and Smile Dental Services to bring services to Calaveras County this month. Two dates are available for these services: exams, x-rays, cleaning, sealants, restorative services, and simple extractions. The mobile dental clinics will be held on February 10th and March 10th, from 8 a.m. to 5 p.m., at the San Andreas Library, located at 1299 Gold Hunter Road in San Andreas. County health officials shared that appointments are required and can be made by calling 1-888-585-3368. For more information on the Medi-Cal Dental Program and services, click here.