GOP Calls For End Of California's 'Soft On Crime' Policies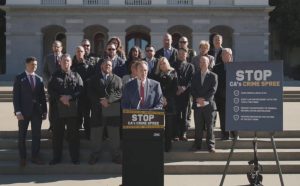 GOP Assembly Leader James Gallagher Speaks In Sacramento

View Photo
Sacramento, CA — California Republicans say they want to end policies that they feel have led to increased criminal activity in the state.
The Assembly GOP caucus has put out a series of proposals designed to thwart crime. Assembly GOP Leader James Gallagher says, "At least part of this issue is the lawlessness that has been created in California. There really is no penalty for crime. You can steal things in stores and you just get a citation. We've removed enhancements for even the use of a gun in a crime."
Gallagher continues, "We need a better approach, we need a smarter approach to stop these individuals before they commit these atrocities to ensure that there are real deterrents to gun crime in this state.
The list of GOP proposals is below:
Repeal Prop. 47
Increase penalties for serial shoplifters
Increase information sharing between state and local law enforcement to get illegal guns off the streets
Restrict judges from dismissing firearms enhancements
Restore "10-20-Life" enhancements for violent felonies committed with guns
Bring transparency to the good conduct credit program for state prisoners
Give victims a voice at court proceedings in their cases
Improve domestic violence survivors' awareness of resources and services to help them recover.