Two Injured In Calaveras Crash, Including Child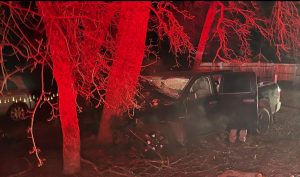 Highway 26 Crash, Calaveras Consolidated Fire Image

View Photo
Valley Springs, CA — Two people were hurt in a crash early Saturday morning after a vehicle hit a tree on Highway 26 near Lower Double Springs Road.
The Calaveras Consolidated Fire Department reports that the two, including a small child, had serious injuries. They are from the Stockton area. They were transported to a trauma center in the central valley. An air ambulance was requested, but it could not respond due to the heavy fog. No additional information is immediately available.
The crash occurred around 2am.