Two Sus Scrofa Domesticus Available For Adoption  At Calaveras Shelter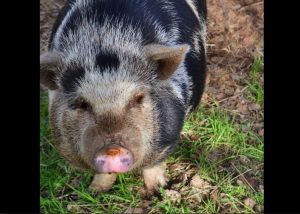 One of two Sus Scrofa Domesticus rescued by the Calavera County Animal Shelter

View Photo
San Andera, CA – Two potbellied pigs are not the typical pets thought of when adopting a pet from a shelter, but they still need a forever home.
Meet Dolly and Dexter, picture to the right, that are currently residing at the shelter. Dolly has been in the shelter for two weeks after she was confiscated from her owner for cruelty, according to shelter officials. Dexter arrived about a month and a half ago after animal control received repeated reports of him wandering into neighbors' yards.
Shelter officials say they have had pot-bellied pigs surrendered at least four or five times in the past, but they are not the usual pets found at the shelter. So, it stands to reason that their weight is unknown as the shelter's scale is not big enough for them to step onto it. The ages of the pigs are also unknown.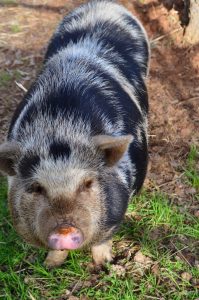 Shelter officials give these descriptions of the pigs, stating that Dolly (right) has a sweet disposition, enjoys being scratched, and would make an excellent companion pet, while Dexter (below) is difficult to read but will come to the fence to meet people and dogs and could benefit from some socialization.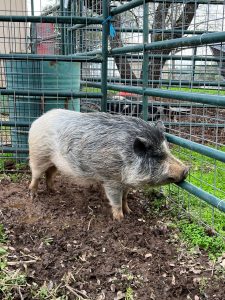 Those interested in adopting either Dolly or Dexter or both should follow these tips from animal control:
Do research to see if they fit your style.
Have knowledge of what they eat, how they are groomed, and their sleeping conditions.
Have at least a 20-by-20-foot pen to house them that is fenced.
While pet pigs can be expensive, according to shelter officials, their new owner(s) will get a break with a $10 adoption fee for each to take them home.