AG Bonta Warns About Bad Actors During Storm Cleanup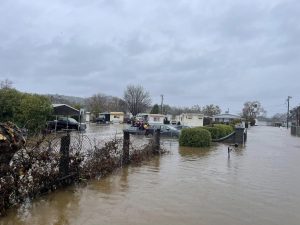 Flooding in the Castle Rock Mobile Home Park in Valley Springs

View Photo
Sacramento, CA — California Attorney General Rob Bonta has issued a consumer alert warning about fake and unlicensed contractors soliciting services to those impacted by recent storm damage.
Bonta says Californians should only hire licensed contractors and reminds everyone that price gouging during a designated State of Emergency is illegal. Also, anyone working in a state or natural disaster area without an active state contractor license may be subject to felony charges.
Bonta says, "We will not tolerate those who take advantage of consumers during this time of struggle for many. I urge all Californians to be diligent and do their research before making any kind of home repair through a contractor. Additionally, if you believe you have been a victim of price gouging, report it to your local authorities or to my office at oag.ca.gov/report."
California State License Board Registrar, David Fogt, says, "Disaster survivors take a huge risk when they hire unlicensed contractors. Most are not properly insured and likely don't have the skills or knowledge to perform the work. It is important to verify on CSLB's website the person you are working with is included on CSLB's license records."
Additional tips and recommendations from CSLB:
-Don't rush into repairs or cleanup, no matter how badly they're needed.
-Don't sign over any payment checks from your insurance company.
-Hire only California-licensed contractors. Ask to see the license. The license number must be on all ads, contracts, and business cards.
-Don't pay more than 10 percent down or $1,000 — whichever is less.
-Don't pay cash, and don't let the payments get ahead of the work. Only pay for work as it is completed to your satisfaction.
-Avoid making the final payment until you're satisfied with the job.