Supervisors To Discuss TCEDA And Juvenile Detention Grant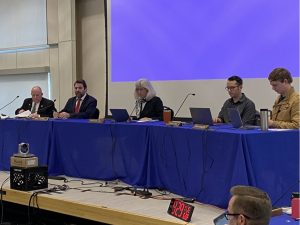 Tuolumne County Supervisors Meeting

View Photo
Sonora, CA — The Tuolumne County Board of Supervisors will meet this morning.
One of the items on the agenda is to officially dissolve the former Joint Powers Agreement for the Tuolumne County Economic Development Authority with the City of Sonora. It was last active four years ago prior to the exit of Larry Cope and has recently been dormant. Economic development efforts are now overseen by the County Administrator's Office.
There will also be direction given by the board to staff about an inclusionary housing ordinance related to affordable housing.
The board will also accept unanticipated revenue, in the form of a grant of $1-million from the state, to the Mother Lode Regional Juvenile Detention Facility.
Today's meeting will start at 9am at the Tuolumne Community Resilience Center on Bay Avenue in Tuolumne. The meeting is not being live-streamed so viewing is in-person only.