Update: Traffic Alert: Landslides Impacting Travel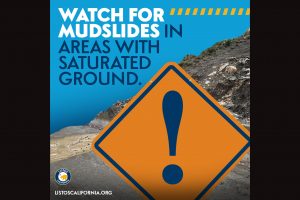 Tuolumne County OES issues warning to watch for mudslides

View Photo
Update at 11:25 a.m.:  A third landslide is being reported by the CHP on Old Priest Grade. They detailed that rocks have fallen onto the roadway at the bottom of New Priest Grade/Highway 120 intersection, blocking the eastbound lane of the roadway. Officers are directing traffic, with no timeframe given for when the slide might be cleared. Further details on two other mud and rockslides can be viewed below.
Update at 10:40 a.m.: The CHP is reporting a second landslide on Parrotts Ferry Road, this one in Calaveras County. Officers are on the scene and directing traffic as two "giant" boulders are blocking the northbound lane near the Natural Bridges Trailhead. While a county road crew has been called to the scene, there is no estimated time as to when the roadway will be cleared and completely reopened.
Original post at 6:35 a.m.: Columbia, CA – A landslide in the Columbia area of Tuolumne County is slowing traffic.
The CHP reports that a mud, dirt, and rockslide is blocking a section of the roadway at the Marble Quarry Road intersection in the Gold Springs Subdivision area. County road crews have been called to the scene to help remove the landslide, but there is no estimate of when the roadway will be cleared.
Motorists will want to be careful and slow down, as there is also flooding in the area. Signs are also posted at the intersection to warn drivers of the blockage. The CHP suggests that travelers use Highway 49 as an alternative route.
Additionally, county OES officials have issued this warning to drivers: "Be on the lookout for potential flooding and mudslides in areas recently burned by wildfires. They caution that a debris flow can take homes off their foundations and carry items such as vegetation, large boulders, and cars."