Extreme Wind Event And Tornado Confirmed By Weather Service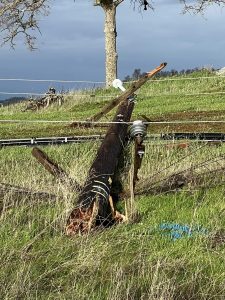 Downed power pole and lines close a section of Hogan Dam Road in Calaveras County

View Photo
Milton, Calaveras CA — The National Weather Service has confirmed that the severe thunderstorm yesterday moved a large horse barn in Oakdale and qualified briefly as the second lowest level of tornado, an EF-1 in Calaveras as it crossed Hogan Dam Road.
On January 10, 2023 the early morning severe thunderstorm that moved across the San Joaquin Valley and into the Sierra foothills caused an emergency alert to be issued. The warning was in effect from 3:43 AM until 4:15 AM. The alert gave 17 minutes of lead time for the Stanislaus County wind damage and 27 minutes of lead time for the Calaveras County tornado. The warning text mentioned severe thunderstorms capable of producing both tornadoes and extensive straight line wind damage.
At approximately 4:02 AM six miles east of Oakdale, a large horse barn was picked up and moved over a five foot fence, damaging two trees. Neighboring properties had minor roof damage to barns. No other damage was reported. Based on information from property owners Courtney Carpenter, the Warning Coordination Meteorologist details, "this was determined to be straight-line wind damage with estimated peak wind speeds of 75 mph."
To the northeast, at approximately 4:10 AM six miles north east of Milton, in Calaveras a brief EF-1 tornado touched down near a small reservoir and Hogan Dam Road and continued Northeast for approximately 0.4 miles. It caused extensive tree damage to white oak and pine trees with trees uprooted and topped. An approximate tornado path length of 0.4 miles with a path width of 50 yards and max winds of 90 mph was identified. The specific starting point was 38.0834/-120.7581, ending point 38.0882/-120.7545. All evidence, including radar, was viewed and evaluated in coordination with Calaveras County Office or Emergency Services and the property owner. An EF0 tornado has winds 65 to 85 miles per hour with light damage and an EF1 has 86 to 110 mile per hour winds with moderate damage
Carpenter states "The radar at the time indicated a line of strong thunderstorms with gusty winds and areas of rotation on the storm and other storms across the area. This is not uncommon and the vast majority of weakly rotating storms do not produce a tornado."

In addition to all the current news related to multiple atmospheric rivers, the new page has important phone numbers and links to resources and information like the County Office of Emergency Services that you or your friends may need when something happens.
Some of the useful information that is on the extreme weather page, for example, gives details from the FDA about what to do with food and water before, during and after a storm. There are links to various articles related to food and water safety during power outages and floods to help guide those who have been victims of natural disasters. More information is available on the FDA website here.
Our traffic page here has Caltrans information but for more county road information there are county maps that are updated: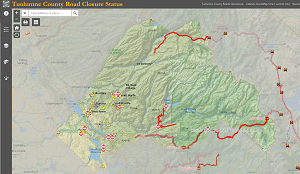 Tuolumne County Update: Jan 11th at 11:30 am
Current Road Closures: Bell Mooney Rd, Red Hills Rd, Marshes Flat Rd, Buchanan Rd – One Lane, residents only, Mather Rd, Cherry Lake Rd, Placer Dr, Colorado River Drive South
Re-Opened: Big Hill Rd, Mi Wu St, Golf Club Dr, Muir Ave, American River Dr, South Fork Rd, O'Byrne's Ferry Rd, N Stewart St, Rawhide Rd, Parrot's Ferry Rd, Old Priest Grade
Sand is available 24/7 at these locations: Columbia: 10723 Airport Rd – Airport parking lot, look for orange cones,
Tuolumne: 18870 Birch St & Corner of Parkview Ln/ Chestnut Ave, Jamestown: Corner of 7th Ave/8th St, Big Oak Flat: 11242 Wards Ferry Rd. Residents must provide their own bags and tools
Drying & Warming Centers
Tuolumne County Enrichment Center 102 Hospital Rd, Sonora CA 95370
Open Mon-Weds, 9am-6pm
Sonora Main Library 480 Greenley Rd, Sonora CA 95370
Open Mon-Fri 9am-6pm, Saturday 10am-6pm
Calaveras County Public Information Map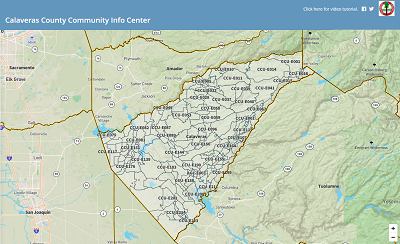 Mariposa Public Information Map