Bill To Make California A Sanctuary State Passes Senate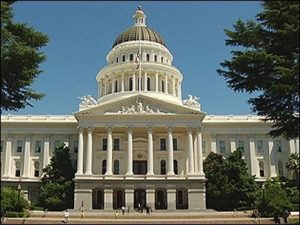 California Statehouse

View Photos
Sacramento, CA — The California Senate has passed legislation that would make California the nation's first sanctuary state.
Senate Bill 54 would specifically prevent local and state law enforcement from being enlisted to enforce federal immigration laws. Senate Democratic leader Kevin de Leon has been pushing for the bill. He says, "Undocumented residents commit crimes and are incarcerated at a lower rate than native-born residents. Counties with sanctuary policies are safer and economically better off than comparable non-sanctuary counties.  Our communities will become more – not less – dangerous if local police are enlisted to enforce immigration laws."
Meanwhile, Republicans have stood sharply against SB 54. Republican Senator Jim Nielson countered de Leon's statement, saying, "I cannot say this enough — this is not about immigration. This is about enabling criminal behavior and activity that endangers our citizens. Creating a sanctuary state is dangerous for Californians; it compromises our public safety and diminishes justices."
SB 54, entitled the California Values Act, now moves to the Assembly for a vote later this week.