Sonora Reaches Agreement To Purchase Corner Gas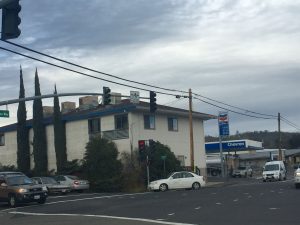 Corner Gas at the intersection of Greenley Road and Mono Way

View Photos
Sonora, CA — The Sonora City Council has finalized an agreement to purchase the Corner Gas property at 852 Mono Way so that the city can proceed with plans to widen the Mono Way and Greenley Road intersection.
Sonora Mayor Connie Williams issued a statement at the end of a closed session meeting held late this afternoon.
It reads, "The City of Sonora has reached an agreement with 852 Mono, LLC and The Corner Gas Station, Inc., the owners of the property and gas station at 852 Mono Way, to purchase the necessary property and improvements to allow the construction of the Greenley Road/Mono Way Intersection Project-Phase 2.
The City will be acquiring the needed real property, including the right of way and building, along with the furnishings, fixtures and equipment of the gas station business. As a part of the transaction, the property owner will be removing the building and related site improvements.
The total purchase price is $1,624,000.00 including $1,092,000 for the real property; $362,000 for the furnishings, fixtures and equipment; and, $170,000.00 for demolition costs.
The property owner will be retaining approximately one-half acre of property, the six-stall car wash and the fuel island canopy.
The project is jointly funded by the City and County through Traffic Impact Mitigation Fees collected from new development."
The final vote was 4-0 with City Council member George Segarini absent. The City of Sonora plans to complete the construction of the Mono Way and Greenley Road widening prior to the opening of Sonora Regional Medical Center's adjacent Cancer Center and Outpatient Pavilion. Once a contract for the work is awarded to the most competitive bidder, the project is anticipated to take around 90 days to complete.