Seasonal Rain And Snowpack Levels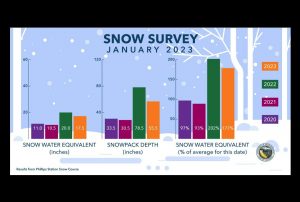 Sierra Nevada Snowpack Survey

View Photo
Sonora, CA — The recent wet weather has provided a very good start to the snow season in California.
The Department of Water Resources hiked up into the Sierra Tuesday to conduct the first manual snowpack reading of the season. DWR Public Information Officer Sean De Guzman says, "This January snow survey is really our first big reveal of snow conditions for the year, and our snowpack is actually off to one of its best starts in 40 years."
The snow water equivalent is 177% of the average for the date.
At this point last year, the snowpack was actually higher, 202% of the average. However, DWR points out that it was followed by a record dry stretch in the few months that followed.
Locally, the Tuolumne Utilities District reports that its Sonora regional water plant has recorded 16 inches of rain so far this water year, which is about 144% of the average for the date. Recent daily figures are below:
1.10 Tuesday (12/27/22)
0.90 Wednesday (12/28/22)
0.15 Thursday (12/29/22)
1.19 Friday (12/30/22)
1.95 Saturday (12/31/22)